Go therefore and make disciples of all nations
We believe the Gospel must be present in everything we do, so we strive to meet both the physical and spiritual needs of the people we serve through our mission efforts locally and globally. We want to be a church known for ushering in God's Kingdom on earth as it is in Heaven. We believe the church is called by God to spread the Gospel throughout the world, and we see the individual call for the followers of Christ to take part in this all over scripture. In Matthew, Jesus commands us to go and make disciples of all the nations. In Romans, Paul reminds the church of this same command: "how then will they call on him in whom they have not heard?" Our prayer is that everyone at Stones Crossing would live on mission in light of who God is and what He has done for them.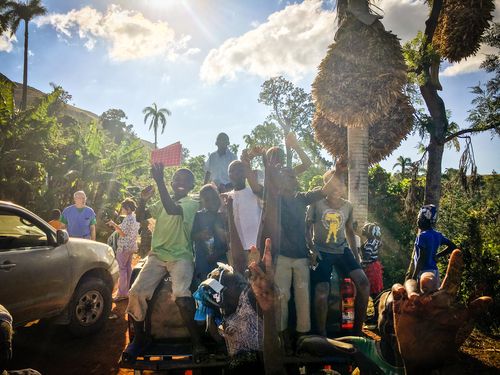 Go Beyond on our upcoming mission Trips
We serve single mothers, widows and the elderly living in Johnson County with automotive repair needs. Anything from brake work to oil changes and tune ups, we only charge for the cost of the parts and do all labor for free.
Loving Beyond Meals combats physical hunger and lack of community by gathering for a meal twice a month. During these meals, we share conversation and provide hope and encouragement for those in need in our community.
Visiting Friends is our nursing home/assisted living ministry that is dedicated to building relationships and bringing hope to our elderly brothers and sisters. We want to care for those who often don't receive visitors or hear from other people.
Healing on the Hill is a free, healthcare clinic that administers care and treatment physically, mentally, and spiritually in an effort to provide holistic solutions and hope for people in need in our community.
Loving Beyond Tutoring is our weekly ministry for students in our community that need homework help and additional assistance with tricky school subjects. We create environments to help students learn while also loving them and encouraging them, because we know how much God loves them.
Our Impact Team is designed to aid and improve the efforts of all of our ministries. Together, we want to make an impact wherever we are needed, whenever we are needed, for whatever reason there is a need.
Emily is the campus director for Cru in the Indianapolis area. She is in charge of overseeing the Cru campus ministry at Butler University, IUPUI, University of Indianapolis, Ivy Tech-Indianapolis and Wabash College where she helps direct and empower local staff and connect with students across those universities.
Jim and Teresa are the Co-Directors of Sharing the Vision. They have been serving in full-time missions on the island of Hispaniola for 24 years. The past 15 years, they have been serving in the Dominican Republic.
Mackenzie's mission field is the schools, fields, courts, and gyms of Johnson County. As a part of FCA, she meets coaches and athletes where they are most familiar and teaches them how to be disciples on their teams and campus. There is an FCA huddle in all of Johnson County's school districts. The 14 huddles meet weekly before school to study the Word and learn how to become leaders on and off the field.
The 410 Bridge is a Christ-centered, non-profit organization committed to relentlessly pursuing healthy community development in nations confined by poverty. We see the poor as the solution to poverty and not the problem to be solved. We engage communities to participate in their own development, restoring their sense of dignity, purpose, and freedom. The 410 Bridge works alongside local churches and leadership to assess and leverage their community's gifts and strengths, not just their needs. Working in conjunction with our partners, we activate a unique, holistic approach that combines Christian discipleship, economic development, quality education, clean water, as well as health and wellness to create lasting freedom from poverty.
David is a graduate of Cedarville College and Southern Baptist Theological Seminary and has pastored churches in Dayton/Cincinnati, Ohio and Indianapolis, Indiana. After being a missionary in Alaska for three summers, he felt a call from the Lord to develop native leaders and minister to teens. He has worked with InterAct in Fairbanks, AK since 1990.
Grant and Holly live in Columbus, Ohio and work for Bridges International (a ministry of Cru) on campus at Ohio State and specifically invest in the school's international students. There are approximately 7,000 internationals at OSU, with over 4,000 students from China. They are trusting God to win OSU international students to Christ, build them up in their faith, and send them out after graduation on mission for Jesus back to their home countries.
Leo Arriaga is a Salvadorian national who partners with several organizations providing education in public schools dealing with drug prevention, sexuality, and violence. These partnerships provide him a platform to share the gospel in public schools. Leo also serves among the poor communities of El Salvador to meet both physical and spiritual needs. He also has the privilege of assisting with various short-term mission teams to El Salvador.
Rich has been in Youth With A Mission (YWAM) leadership for the last 33 years as a long-term missionary. Rich lived and worked in Amsterdam, Holland; Las Vegas, Nevada, and is now in Kona, Hawaii (at the largest missionary training base in the world). His calling is to train many 1000s of young people into missions, evangelism, and church planting across the nations.
God called Francisco & Martita Berrios from their homeland of El Salvador to Romania in 2001. Francisco and Martita are engaged in biblical counseling, evangelism, and small group development. They also teach and preach in support of the Hope Baptist Church ministry in Brasov.
Get to know our partners.
If you want an inside look at our ministry partnerships, check out Pastor Mitch Green's podcast ("The Go Beyond Podcast") where he interviews each of our partners to understand what they're doing and how we can continue to partner with them in prayer.
Encourage our active partners
Write an encouragement, question, or prayer and we'll connect you via email.